Get Ivy-Level Scores for Your Kid Without Lifting a Finger
If you're on this page, you want to raise your kid's SAT or ACT scores. Two questions we need to answer:
How much do you want to raise them?
How do you want to go about doing it?
There are countless ways to prep for these tests. They are not created equal.
1. If you're not raising kid's scores by entire college tiers, prepping isn't even worth either of your time. Unless you're raising your child's scores by at least 3 points on the ACT or 100+ points on the SAT, you're not even moving the college admissions needle. 2. If you're required to "manage" your child's prep, you're wasting your time on an ineffective program. Effective prep can, should, and must empower your kid to study on his or her own, without parental involvement. Otherwise, you're setting your child up for failure.
A recent Wall Street Journal piece
revealed that most programs improve scores by an average of ~20 points on the SAT, and less than 1 point on the ACT. For such tiny numbers, that's a big problem.
That's why I engineered an online program delivering the only two things that matter:
huge score improvements with complete flexibility.
"Your program brought my math score from a 23 to a 31, and my overall composite to a 32. THANK YOU THANK YOU THANK YOU - your program is ALREADY changing my life! My mentor's hands started to shake when I told him my scores!"
"Mr. Green, I just want to say your program is incredible! I started your program with 5 weeks before my ACT and went up by 8 POINTS! Your program couldn't have been more helpful. Thank you!"
"I just wanted to let you know that I've gone up 290 points on the SAT in a couple of weeks. This program is really working out!"
"Anthony, I just wanted to thank you for your program. My son Isaac brought up his SAT score almost 500 points! He just received an offer from Brown to play football, and they told me they wouldn't have looked at his film unless he got these scores."
"Anthony, this program is wonderful! I'm up 340 points in a couple of weeks! It really works, and seeing these improvements is really encouraging. Thank you again!"
"I am recommending your program to all of my friends. My son's PSAT scores came back today, and he's a National Merit Finalist. I can say that the system worked for him!"
"People say you can't study for the SAT - I am so glad I was able to prove them wrong! My score went up 350 points in a couple of months! Thank you so much for making this program available to all!"
"Anthony - my final ACT score is a 32 - up 6 points since I started! Thank you for raising my scores!!!"
"Hi Anthony - I just wanted to let you know how happy my parents and I are with the results - I'm up almost 210 points in the first month, and you're inspiring me to work even harder. You're a wizard, or at least a genius!"
"Mr. Green, I cannot thank you and your program enough. I went up almost 400 points, which is absolutely amazing. I'm recommending your program to everyone I know who needs help!"
"Dear Mr. Green, I just got a perfect score on the math section, and my overall score is up almost 400 points! Thank you for the prep, and for the 400 extra points on my SAT!"
"Thank you SO much for your help! I'm getting into my first choice school thanks to the scores your program got me!"
"Convincing my parents to get this program is one of the best decisions I've ever made. I almost got a perfect score, and I'm up 190 points from where I started. This was an amazing investment!"
"Thank you so much! I have gone from a 28 to a 34. AMAZING! THANK YOU!"
"My hard work paid off! I went up 170 points in a couple of weeks! Thank you!!!"
"I love your program. At first, I thought a lot of it was crazy. But I've gone up almost 200 points in a couple of weeks. I can't wait for my next test!"
"I just want to say that I was so shocked when I got my scores. Your program works - I just got a 770 in math and a 780 in verbal. Thank you so much, Mr. Anthony Green!"
"I'm honestly amazed at how comprehensive and fantastic your program is. You are doing amazing work!"
"I am so excited I'm improving this much this fast! I've only been working on my ACT for a month and I'm already up 3 points! Thanks SOOO much!!!"
"I wanted to get in touch and let you know how I did: 30 points away from a perfect score!"
"Hi Mr. Green, Thank you for your SAT program! I went up 250 points - and I certainly didn't expect this much improvement. Thanks for answering all my questions. You made this process as painless as possible!"
"Hi Mr. Green, I just got my scores back, and it's the highest I've ever scored! I got a 710 in math and a 770 in verbal, and I believe these scores were made possible solely by your program!"
Helping students score higher on standardized tests is literally my life's work. It's the only job I've had since my first semester at college in 2005.
After breezing into Columbia University (not too hard when you have 99th percentile scores), I got a job tutoring at one of the big prep firms to pass my success forward. I was inspired by my own tutor, who took me from a 40th percentile PSAT score to a 99th percentile SAT score. But when I started working at one of the "big names" in the prep world, I was beyond shocked! The tutors were unqualified, the students were unmotivated to learn, the methods were one-size-fits-all
and no one was getting any better.
And guess what?
Most of the coaching and tutoring services out there still deliver terrible results. But because I improved my own SAT scores by so many points, I knew there had to be a better way.
So, I created one.
Since then, I've developed a 4-year waiting list for my one-on-one services - at $1,500/hour. Mostly through word of mouth. Not to toot my own horn, but I'm doing something right. Thanks to the results I bring to my clients, I've been featured everywhere from The New York Times to Good Morning America.
You'll need to wait years to work with me one-on-one, but you don't need to wait to experience my results. I've converted all my knowledge - my best study methods, lessons, and techniques - into an online prep program that anyone, anywhere in the world can use to amplify their scores.
These are the same strategies, the same lesson plans, and the same methods that I charge my clients $1,500/hour to learn - in an online program you can use at your own pace and on your own schedule.
Anthony-James Green
creator of The Green Test Prep System
America's Top SAT Tutor
How It Works
The Curriculum, Strategies, Tools, and Instruction of the World's Best SAT & ACT Tutor - in Your Home, on Your Schedule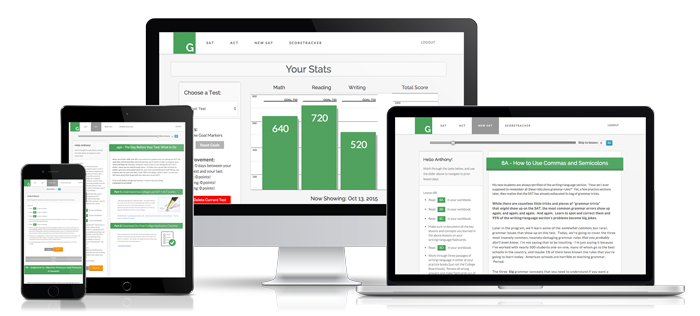 Members of Green Test Prep Premium Receive:
1 My full SAT & ACT curriculum, including all my best strategies, and tools.
The exact steps you need to take, from day one through test day, to rapidly improve your scores. Learn what you need to study, when, and how, in order to raise your scores by entire college tiers. Take the guesswork out of the process – just log in, pick up where you left off, and watch your scores skyrocket.
The most effective strategies, tactics, and tricks for all sections of both tests. Get the simplest, most effective approaches and tools for all sections of both tests (including the essays), along with comprehensive lessons on how to use them.
Unlimited, 24/7 access from any device – for as long as you need it. Log in from any browser, tablet, or phone wherever and whenever you have the time. Get unlimited access to the SAT & ACT programs for one price, with no schedules to keep and no limits to your access and score improvements.
Full practice testing schedule using real SATs and ACTs so that you know what you're scoring, how quickly you're progressing, and have all the testing experience you need when you take the real thing on test day.
Holistic prep that keeps the real world in mind. Set goals, create a prep schedule, and build effective prep into your daily routine. When you know where you are, where you need to go, and precisely how to get there, test prep doesn't need to be a burden.
Review methods designed with the SAT & ACT in mind. Leverage your study time and rapidly improve your performance with the most effective, test-specific review routines ever built.
2 Customizable Training Calendars and Complete Training Flexibility.
Set a target date to take your SAT or ACT and learn how to customize the program to meet your needs, match your schedule, and exceed your goals.
Submit score improvements and progress on a weekly basis - parents, students, and our team review reports to keep everyone on the same page and on track toward hitting your goals.
Receive optimized test-day prep - learn exactly how to study in the weeks, days, and hours before your test, optimizing your body, mind, and psychology for perfect performance.
Keep your skills fresh with a customizable maintenance plan between the time that you take your test and the time you receive your scores.
3 College Strategy Secrets, My A-Z College Coaching Program.
My entire online program with everything you need to get into the college of your dreams. Unlimited access to my videos, workbooks, transcripts, and more - like a $50,000 college consultant in a neat, online package.
Learn to select the right college for you - the one you want to go to most, and that wants you to attend. Half the admissions game is picking the right school - learn how to do it right.
Leverage your GPA and test scores for easier admission. Learn what GPA and test scores colleges want, and how to get them (and because you're a member, your SAT/ACT scores are already taken care of).
Optimize your extracurriculars for amplified chances of admission. Learn what colleges want, what they don't want, and how to get the most out of your time.
Craft a perfect application, from your essay to your recommendations, taking advantage of every loophole and using the tricks I've discovered after working with over 500 of the most elite applicants in the world.
FAQ
Does your program work for PSAT prep?
What kinds of score improvements can I expect?
How long does it take to complete your program?
Does your program cover the math, reading, essay, writing+language, English, science sections?
How much work does your program take?
What's included with your program?
Can I use your program on my Mac / PC / Phone / Tablet?
How does your guarantee work?
What does your College Strategy Secrets program include?
When should I start using your program?
When should I take my test?
Does your program include practice tests?
How do I know when I'm ready to take my official test?
Does your program include answer explanations?
Does your program teach timing strategies?
Does your program teach the essay section(s)? How?
Should I use your program with a tutor / other instruction?
Can more than one student use the same account at the same time?
Can younger siblings use your program when older siblings are finished with it?
Success Stories
Our average user improves by 215 points on the New SAT and 4.6 points on the ACT. But everyone is different. Here are some words from a few of my recent students: