"Mom, Dad — I Got Rejected!"
Discover The Dirty Little SAT Secret
That's Keeping Your Child
Out Of America's Best Colleges
$597
Only $150
Did you know?
The wealthiest 1% of American families pay up to $50,000 for private tutors to get their children into elite colleges.
How do I know this?
Because for more than 11 years, I was one of those private tutors.
My clients were the children of Fortune 500 CEOs … in Manhattan, the Hamptons, Palm Beach, and other wealthy enclaves around the world.
And those wealthy, well-connected clients knew a shortcut that many other families don't:
The easiest way to help your child get into their dream college is a higher SAT score.
You see, when it comes to getting into America's best universities …
Test Scores May Determine
Your Child's Future
There are two big reasons why, according to the August 4, 2014 issue of Forbes magazine:
Reason #1: Standardized test scores like the SAT are a simple way to screen out students when the number of applications is huge. For example, Stanford reported 42,000 applications for only 1,700 freshman spots.
Reason #2: Colleges admissions offices care a great deal about popular rankings like U.S. News & World Report. And tests like the SAT have a significant weighting in that formula.
For college admissions officers, moving up on the U.S. News list is almost always recognized by the Board of Trustees …
… and that can mean bigger paychecks for those admissions officers come bonus time.
Here's what that means for you: If your child doesn't score high enough on the SAT, their application goes in the trash.
And your child gets rejected.
That's the dirty little secret of college admissions.
It's not fair to you or your student. That's just the way it is.
But now you can enjoy the same "unfair" advantage enjoyed by America's wealthiest families, because now your child can score up to …
215 Points Higher On The New SAT
— Guaranteed!
I'm Anthony-James Green, creator of The Green Test Prep System.
Helping students score higher on the SAT and other tests is literally my life's work.
Because it's the only job I've had since my first semester at Columbia in 2005.
The reason? I was inspired by my own tutor, who taught me some of these tricks and raised my SAT score from the 40th percentile … to the top 1%.
That's what really got me into the Ivy League. Because my high school GPA was in the bottom 25% of my class … but a high SAT score opened the door for me!
After getting into Columbia, I got a job tutoring at one of the major test prep firms. I wanted a little extra spending money.
But what I found was shocking.
Most of the firm's methods were a huge waste of time and money — for students and parents.
The tutors were unqualified … the students were unmotivated to learn … the methods were one-size-fits-all … there was no accountability back then.
And guess what?
Most of the coaching and tutoring services out there still deliver TERRIBLE results.
On average, most paid prep options deliver "improvements" of only 30 points on the SAT. That's according to a study in The Wall Street Journal.
But because I saw a 300-point improvement in my own SAT score, I knew there had to be a better way.
So, I created one.
In an industry plagued by poor results, Business Insider magazine calls me …
"America's Top SAT Tutor"
I've been featured everywhere from The New York Times to Good Morning America …
Now, after more than 15,000 hours … 11 years … and my experience helping more than 450 students get into some of America's best universities … I've developed the Green Test Prep System.
These are the same tips, tricks, and techniques that I charge $1,000.00 an hour for. And my private tutoring clients happily pay. Because the system works.
How It Works
The Green Test Prep System achieves dramatic gains in test scores. Because it delivers a powerful combination of online and offline training.
In a nutshell, your child gets the drills online, then practices offline with paper and pencil. With NO videos, because passively watching a video is not the best way to learn these skills!
It's as easy as 1-2-3:
1) ONLINE: Instant web access to the Green Test Prep System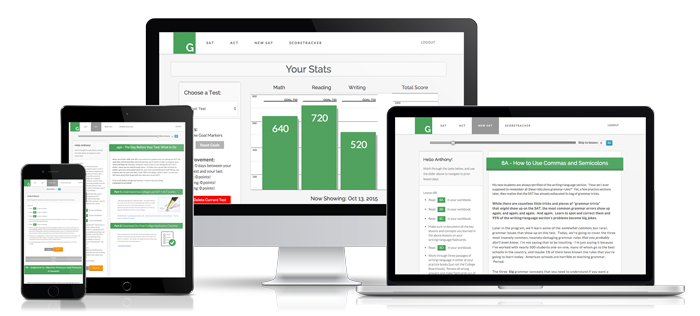 Your student can work the program from any device connected to the web. With no expiration date — you get unlimited, life-long access.
It's simple and streamlined – as easy to use as Google or an iPad. Just log in and get going!
2) OFFLINE: Real paper and pencil, just like the tests
This is important. Unlike other programs that are all web-based or use videos, the Green Test Prep System trains your child with … paper and pencil.
Why? Because that's how students take the SAT.
By doing drills with paper and pencil, your student builds "muscle memory," just like a pilot in a flight simulator. When it's time for the real test, they've got the knowledge, skills and confidence to score high!
Plus, when your child is practicing with paper and pencil, they're not sitting passively in front of a computer screen, like they do with other test-preparation programs.
3) ANYTIME: Practice for 10 minutes or 2 hours
Your child is busy. And so are you. We understand.
That's why the system has is built with total flexibility. It lets students study on their schedule — 10 minutes before school, 20 minutes after school, a few hours on weekends — the choice is yours.
This unique combination is found only in the Green Test Prep System. It's easy. Get the drills online. Then practice offline. Anytime.
That's how the Green Test Prep System is DIFFERENT. It pushes your child to build their skills by thinking critically, with pencil and paper. It mimics the way your child will be expected to study in college.
Now, you may think your child can learn these skills with only video training … but can your child get a driver's license with only video training? Of course not. That's illegal. Because it's insane.
To learn any new skill, you must have practical training that mimics real life. Unlike other programs, that's exactly what you get with the Green Test Prep System — practical training that mimics real life.
And this is how we deliver New SAT gains of 215 points – higher than any other tutor, class, or program in America.
Real Students. Real Results.
"I just wanted to thank you for your SAT prep course! My son did it last spring. Because of your system, he brought his SAT score up almost 500 points! He just received an offer from Brown. Never thought I'd have a kid in the Ivy's."
Tom's mom, Rebecca
"The Green Test Prep SAT system worked magic for our daughter! She gained 400 points after 3 months of study and now is in great shape for applying to her top choice colleges. She found the program easy to follow, super convenient to fit into her busy schedule, and loved how Anthony infused humor and fun examples into every lesson."
Katie, Florida
"From my 1st diagnostic test to my 2nd, my score went from a 1610 to a 1900! The program is really helping out!"
Shervin A., Student
Your Child's Scores Will Improve.
Or Your Money Back!
You cannot make a mistake here. Your success is guaranteed.
If your child doesn't get a higher test score, or if you're not 100% delighted with our program for any reason, you get your money back. No questions asked. For up to one full year.
Other companies won't guarantee your score will go up. But we do. This guarantee protects your investment in learning. And it compels us to produce the #1 test prep system in America!
Free $397 ACT Prep Course
When You Respond Today
And here's an extra bonus. When you take action and try the SAT Prep System today, you'll also receive access to The Green ACT Test Prep System, a $397 value, absolutely FREE.
This is the same ACT test prep system that's increasing ACT scores by 4 points on average! And that's in addition to the SAT test prep system you're already getting.
It's DOUBLE the value and gives you an EXTRA advantage to help you accepted by your #1 college.
The ACT Test Prep System — an extra $397 value — is yours free when you give the Green Test Prep System a risk-free trial today.
Here's What To Do Now
Up until now, if your child struggled to score higher on the SAT, it wasn't your fault. Because nobody told you what to look for in a test prep system.
But now that you've found the only test prep system with online instruction and offline drills … delivering New SAT gains of 215 points … backed by a risk-free, money-back guarantee …
… it's your responsibility to do something about it.
Take the next step. Give your child the advantage they deserve to get into the college of their dreams.
You'll be glad you did.
Now click the orange "Add to Cart" button below and gain access today!
$597
Only $150

Anthony-James Green
Creator, Green Test Prep System
P.S. Any proven opportunity to help your child score higher on the SAT … get into their dream college … and do so without risk … has to be important to you.


You bear heavy burdens as a parent. When you look in the mirror or talk to others about where your child is going to college, you want to be sure you've done everything possible to help.
That's why I urge you to take action today. Because the best time to start improving your child's SAT test scores is NOW.
Plus, as an extra bonus, you get the ACT Prep Course — a $397 value — absolutely FREE. It's the same test prep system that's increasing ACT scores by 4 points on average. Yours FREE today.
You get TWICE the value — test prep help on both the SAT and ACT. All without risking a penny.
Don't wait. Don't hesitate. And don't let your child miss out.
Now take the first step toward your child's dream college today …
$597
Only $150
As featured in: