The $1,500/hour SAT & ACT Tutor's Secret Prep Program – Now Available Online for $500
How do they do it?
My one-on-one tutoring clients consistently get the best SAT & ACT scores in the country.
What's my secret? How do I charge $1,500/hour for my services, with a multi-year waiting list?
My clients are the children of Fortune 500 CEOs … in Manhattan, Hong Kong, Palm Beach, and other wealthy enclaves around the world.
And those wealthy, successful clients are willing to accept an obvious truth:
There is no secret to high SAT & ACT scores.
For more than 11 years, I've put my students on a rigorous, focused, challenging program that actually works.
The ONLY way to get high scores is to work hard, work efficiently, and follow a program that addresses your biggest weaknesses.
There's no such thing as a "bad tester."
The entire idea of a "bad tester" is a myth. There are only two types of students:
1) Students who put in the time and effort necessary to get high scores. They figure out their weaknesses and eliminate them one by one, take plenty of practice tests, and follow a consistent program until they reach and exceed their goals.
2) Students who don't. They don't put in the time, they give up easily, and then, when they get low scores, they throw their hands in the air. "I guess I'm a bad tester!"
Why do you think colleges care so much about SAT & ACT scores? These aren't IQ tests. Instead, they're direct reflections of student work ethic and ability to overcome obstacles. A student with low test scores is a student who didn't plan ahead, didn't put in the time, and didn't prep. Period.
Prepping for these tests isn't fun, and it's not easy. But anyone can get incredibly high scores…
… IF they put in the work and they have a program that shows them precisely how to work hard and what to work on.
There's a universal truth to excellence: Work hard and consistently on your weakest points and you'll succeed. Don't, and you won't.
Take a moment to think of exceptions.
Want to know why the test prep industry is infamous for poor results?
Most companies focus on features rather than hard work and results.
Incredible graphic design. "Interactive tutorials." The newest, shiniest apps!
Forget hard, consistent, effective work. Just cut them a check, sit your kid in a classroom, and your work is done! Right?
Unfortunately, "pleasant," "easy," and "fast" don't get anyone high SAT & ACT scores.
I've spent my career focusing on the opposite approach. My students work hard, they struggle, and at the end of the day, they're glad they did. That's why users of my online program improve by an average of
215 Points Higher On The New SAT &
4.66 Points Higher On The ACT

I'm Anthony-James Green, creator of The Green Test Prep System.
Helping students score higher on standardized tests is literally my life's work.
Because it's the only job I've had since my first semester at Columbia in 2005.
I had horrible PSAT scores. So my mom hired a tutor who worked me half to death.
The result? A year later, I got 99th percentile SAT scores, and despite a mediocre GPA, my high scores got me into an Ivy League school.
After getting into Columbia, I got a job tutoring at one of the major test prep firms. I wanted a little extra spending money.
But the experience I had working for these firms was, frankly, ridiculous.
They had some fun tricks and some useful tactics. They had amazing, well-designed score reports for their students. But they put zero emphasis on the hard work and consistency necessary to get high scores.
And guess what?
Their results matched their approach. Students would sit passively in a classroom, or expect to absorb their tutors' expertise through osmosis, rather than through effort.
On average, most paid prep options deliver "improvements" of only 30 points on the SAT … and less than one point on the ACT. That's according to a study in The Wall Street Journal, run by the College Board and Harvard University. If you want to improve by 30 points, you're better off just taking a few tests out of a book on your own time. Heck, you might even get 50 points!
I knew there had to be a better way. So, I created one.
In an industry plagued by poor results, Business Insider magazine calls me …
"America's Top SAT Tutor"
I've been featured everywhere from The New York Times to Good Morning America …
Now, after more than 15,000 hours … 11 years … and my experience helping more than 500 students get into some of America's best universities … I've developed the Green Test Prep System.
I charge my one-on-one clients $1,500/hour for my services. And my private tutoring clients happily pay. Because my system works. The Green Test Prep system is the exact same program that I put my own one-on-one students through, for the price of 20 minutes of my time.
How It Works
The Green Test Prep System achieves dramatic gains for a simple reason: it provides its users with a rigorous, challenging, targeted program combining my step-by-step study program with all my best strategies, tactics, and study tools.
You don't get high test scores by passively watching "interactive videos" or sitting in a classroom. You improve by following a customizable, targeted, challenging program that forces YOU to isolate YOUR weaknesses, empowers YOU to overcome them, and gives YOU the tools necessary to improve through your own efforts.
How does my program work?
Sign Up and Get Started NOW
1) Instant, unlimited web access to my full SAT & ACT Programs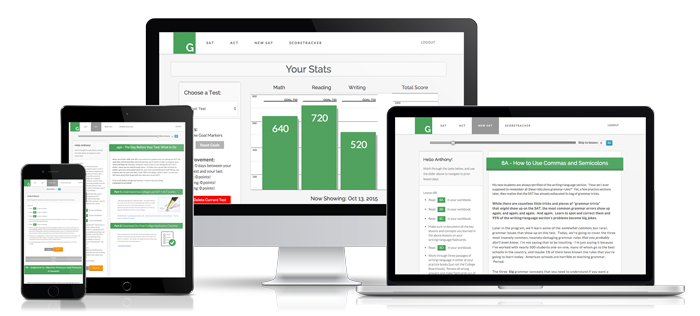 The second you sign up, you get unfettered access to my entire program, and all my best tools and strategies, through any internet-connected device. There's no excuse not to get going.
2) The ONLY program that focuses on the reality of excellence.
Day one: learn what this is going to take.
Day two: take a full, independent, timed, realistic practice test and digest the living daylights out of it, isolating and identifying every weakness preventing you from getting high scores.
Day three through test day: learn how to study those weaknesses into the ground, combining my record-breaking strategies and tactics with a step-by-step program that I've spent over a decade refining.
This is not a program for students who feel like coasting.
If your child isn't ready to put in challenging, frustrating, daily effort, feel free to shop elsewhere. Plenty of companies are more than happy to take your money and sit your kid in front of a teacher or a screen. You won't get higher scores, but hey – you won't hear any complaints, either. Even better? You'll get amazing, full-color PDF reports!
By working through the most challenging, frustrating, and important drills and problems over and over and over again, students build "muscle memory," just like a pilot in a flight simulator. When it's time for the real test, they've got the knowledge, skills and confidence to get amazing scores. It's not rocket science – it's just hard work, combined with a program that converts that hard work into great scores.
If your child is ready to put in the work, this program will deliver. If you want a program that'll deliver high scores without hard work, PLEASE look elsewhere.
3) ANYTIME: Practice for 10 minutes or 2 hours a day
Your child is busy. And so are you. I understand.
That's why my system is built with total flexibility. It lets students study on their schedule — 10 minutes before school, 20 minutes after school, an hour a day before soccer practice – whenever.
But make no mistake: without consistent, daily effort, students cannot and will not get high scores. If you want Ivy-caliber scores, your child will need to put in the work. But my system lets them put in that work whenever and wherever they're able, providing absolute flexibility. No rescheduling, no excuses, and no complications.
It's not easy, but if you're willing to put in the work, this program WILL make it happen.
That's how the Green Test Prep System is DIFFERENT. It pushes your child to build their skills by thinking critically, with pencil and paper. It mimics the way your child will be expected to study in college. It teaches students that with focus, effort, and the right guidance, they can conquer these tests – and any other challenge – on their terms.
Not to be a broken record, but that's why the students who use this program get New SAT gains of 215 points and ACT gains of 4.66 points – higher than any other tutor, class, or program in America.
Real Students. Real Results.
"I just wanted to thank you for your SAT prep course! My son did it last spring. Because of your system, he brought his SAT score up almost 500 points! He just received an offer from Brown. Never thought I'd have a kid in the Ivy's."
Tom's mom, Rebecca
"I just wanted to say your program is incredible! At the end of last year … I took the ACT and got a mediocre score of 28. I started your program with 5 weeks until the test and got a much better composite score of 33!"
Will R., Student
"I GOT A 35! WOOOOOOOOOOOO! 35 on English, 36 on Math, 36 on Reading, and 34 on Science!! I can't thank you enough for your help. YOU ARE THE BEST. THANK YOU!"
Payton D., Student
Here's What To Do Now
Up until now, if your child struggled to score higher on the ACT or SAT, it wasn't your fault. Because nobody told you what to look for in a test prep system. You did what everyone else did: signed up for one of the "big two" programs, crossed your fingers, and prayed.
But now that you know what works – and now that you're looking at the only test prep system with a realistic, effective philosophy, delivering New SAT gains of 215 points and ACT gains of 4.66 points, it's your responsibility to do something about it.
Take the next step. Give your child the advantage they deserve to get into the college of their dreams.
You'll be glad you did.
Now click the orange "Add to Cart" button below and gain access today!
Only $500

Anthony-James Green
Creator, Green Test Prep System
P.S. Any proven opportunity to help your child score higher on the SAT and ACT and get into their dream college.
You bear heavy burdens as a parent. When you look in the mirror or talk to others about where your child is going to college, you want to be sure you've done everything possible to help.
That's why I urge you to take action today. Because the best time to start improving your child's test scores is NOW.
Don't wait. Don't hesitate. And don't let your child miss out.
Now take the first step toward your child's dream college today …
Only $500
As featured in: