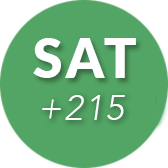 Beat the SAT & ACT
with Proven Test Prep Systems from America's Best SAT Tutor
BBB-Verified Average Score Improvements
Online Test Prep – Best Value
Green Test Prep System
The Complete Prep Curriculum, Guaranteed to Dramatically Boost Your SAT & ACT Scores
Accessible from any device with a web browser (all laptops, iPhone, iPad, Android, etc.)

Instant, Unlimited Access to Anthony-James Green's Online SAT & ACT Prep System. Experience the exact same strategies, tactics and lesson plans Anthony teaches to his 1-on-1 clients (for $1,000/hour) through an easy-to-use online interface guaranteed to amplify your scores.

BBB-Verified Average Score Boosts:
SAT +346.57 and ACT +4.66

$597
Average user score boosts: SAT +346.57 and ACT +4.66
Unlimited (never-expiring) access and free support
Prep on your schedule, at any time
Adapts to students of all levels
Teaches all sections of the New SAT, ACT, and PSAT
Includes parent tracking
Immediate access directly after purchase
Incorporates real diagnostic tests and practice materials
Score Improvements

Guaranteed

Immediate access directly after purchase
[/toggle]
100% No-Risk Score Boost Guarantee
You are fully protected by our 100% No-Risk Score Boost Guarantee. If you don't increase your scores between your first and second practice test, just let us know and we'll send a prompt refund. No questions asked or proof required.
Group Tutoring with Anthony – New for 2016
SAT & ACT Prep MasterClass
Give your child exclusive access to America's Top SAT Tutor: Anthony-James Green.
Join Anthony-James Green's first-ever SAT coaching mastery group. Purchase includes Green Test Prep System.

You and your child have the chance to join an online, all-inclusive, customized, and hyper-comprehensive study program led directly by the best SAT tutor in America.

The SAT & ACT MasterClasses runs for 5 months and provides everything you need to achieve dramatically higher scores on the SAT or ACT. All students receive weekly training, assignments, meetings, customized lesson plans, and answer explanations directly from Anthony.
Frequently Asked Questions

Exclusive weekly group tutoring sessions with Anthony.
Custom-tailored, week-by-week action plans, videos and assignments for all students
Unlimited online access to Anthony's lesson plans, strategies, tactics, and video answer library.
Start Date
End Date
Class Description
Availability
Price
Register
June 15th 2016
November 15th 2016
SAT MasterClass (Summer 2016)
Open


*Limited Space Remaining

$5,000
September 13th 2016
January 28th 2016
SAT MasterClass (Fall 2016)
Open
$5,000
September 29th 2016
February 12th 2016
ACT Master Class (Fall 2016)
Open
$5,000
1-on-1 Tutoring and Online Prep
1-on-1 Tutoring with Anthony-James Green via Skype
Direct Access to the Renowned SAT & ACT Expert
Due to the demands on his time, Anthony has

extremeley

limited availability in his one-one one tutoring schedule. Weekly meetings are available on Tuesdays, Wednesdays, and Thursdays, and packages start at $75,000 / 21 hour package. Those interested in arranging a consultation can email

[email protected]

.

$75,000

21-Hour Minimum Package
Additional Resources